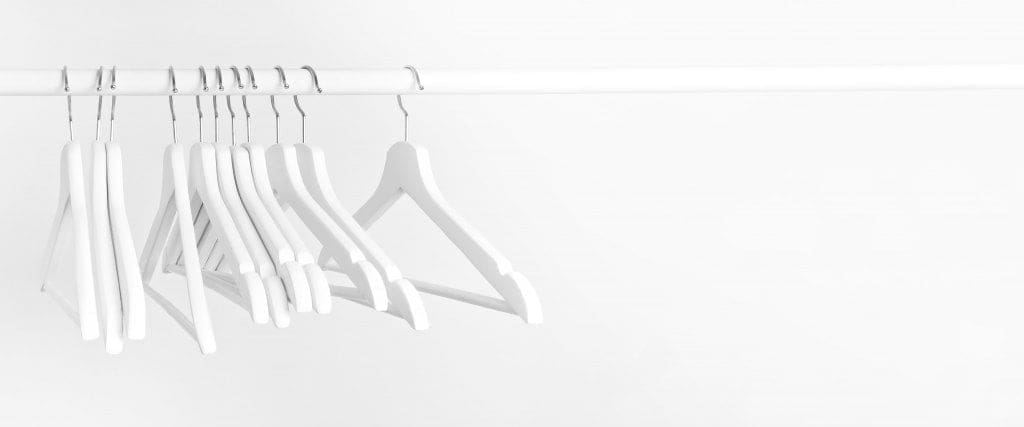 Your Guide to the Different Types of Clothes Hanger
There is a wide range of different types of clothes hanger available, and there are a number of reasons for this. The most obvious factor when choosing hangers is what kind of item you intend to display, but there are other considerations too. For retailers, the look and feel of the hanger is important, as are the cost implications of the coat hanger. In addition, the space the hanger takes up is of interest to consumers and shop owners alike.
Here is a rundown of some of the main types of clothes hanger currently available and the advantages of using them. The Retail Factory stocks a huge array of hangers to suit any business and we can even supply branded hangers too to give your visual marketing on the shopfloor that added boost.
Simple Plastic and Metal Hangers
Simple plastic and metal hangers are functional items that take up as little space as possible in wardrobes and on shop displays. They are popular with launderettes, dry cleaning outlets and other similar businesses, where the plain look of the hanger is less important than its function.
Using the laundrette example, these are businesses that need to hang a large number of garments from multiple clients in order to keep them pristine when they are freshly cleaned. They are not on display for clients to browse, they are merely waiting to be picked up. Thin plastic or metal hangers allow them to fit as many items as possible into the available space, maximising their capacity for taking on work.
As they often give the hanger away with the garment, the low cost of these simple plastic and metal hangers offers them the best possible margin while providing good quality service that keeps the clothes looking good for the longest possible time.
Another sector in which a metal or plastic hanger might be the order of the day is clothing for children. If you have a vibrant brand, you can reflect that with bright coloured hangers that make your shop floor really stand out from the competition.
Wooden Hangers
Wooden hangers look more high-end than their metal and plastic counterparts. For a boutique clothing store, wooden hangers are a must. They take up more rail space than more simple hangers, but they provide an aura of class that is a powerful tool in visual marketing.
They are more substantial and hold the clothes more securely, which means your displays have a better chance of remaining intact, even following the lunchtime rush. This added support comes at a price, of course, but it is definitely worth it if wooden hangers fit your brand.
There are a number of different wooden hanger options. You can choose from the laminated look, the natural effect, walnut, black and white. There are also economy and premium selections within that and your perfect coat hanger choice depends on the effect you want to achieve for your individual business.
Bendy Hangers
Bendy hangers are an innovative item that are perfect for using with knitwear and other such delicate garments. You can bend the hanger to match the shape of the clothing that you want to place upon it, meaning that you don't have to worry about the hanger stretching or otherwise causing the clothes to become misshapen.
In addition, you no longer have to stretch the neckline of the garment in order simply to get the hanger inside. Bend the hanger to fit into the neck of the item and then adjust it to fit perfectly within the clothing.
Bendy hangers also work well in a range of different spaces with varying width restrictions. You can bend them so the clothes are displayed more narrowly if you need to save space or allow them to widen out if you have more room or want to make more of a feature of that particular range.
Soft Touch and Velvet Hangers
The benefit of soft touch and velvet hangers is that you can display your garments without the need for non-slip grips on the top of the hanger that ruins the overall look as it hangs in your shop. When you have luxurious items such as ball gowns and wedding dresses, you want a premium hanger to enhance the look of the piece. You don't want to settle for a functional solution that, although maybe less expensive for you, stands out for all the wrong reasons.
Soft touch and velvet hangers feel great when you pick them up and perform the necessary task of keeping the garment on the hanger without detracting from it. Velvet hangers are perfect for keeping lighter items, such as silk blouses, in place. They also come in a range of colours, allowing you to pick the shade that best suits your branding and shop display.
Soft touch hangers are available in many different forms. You can find jacket soft touch hangers with wide shoulder flares, thinner versions for blouses and shirts and clip hangers that help you best display skirts and trousers.
Satin Hangers
One of the major reasons behind choosing satin hangers is that they provide a stunning look to your display. The sturdy hanger with a padded satin cover is practical for even heavy duty items, but makes a beautiful statement on the shop floor.
Practically speaking, the advantage of the padded satin hanger is that it doesn't snag or catch on the item. Nor does it leave an imprint or crease in the clothing that hangs upon it. You can gain peace of mind that even your most delicate garments will remain pristine on a satin hanger and they also provide support for items with straps that might otherwise slip off another type of hanger.
Padded satin hangers are available in a range of colours to suit your display and wow your customers as they browse your rails.
Need Clothes Hangers?
If you need clothes hangers, browse our extensive range today. If you need any help, we are more than happy to answer any questions that you might have. Simply get in contact.