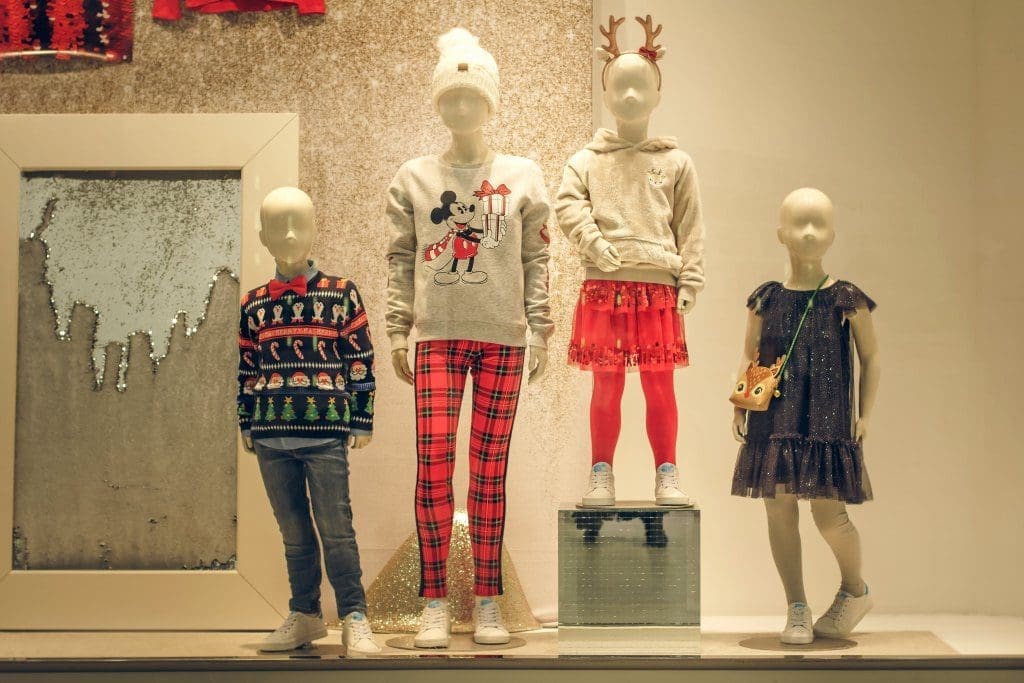 6 Ideas For Merchandising For Christmas With Child Mannequin Displays
Christmas is coming and it is the time of year when thoughts turn to the big window display that will entice the shoppers into your store.
Christmas is coming and it is the time of year when thoughts turn to the big window display that will entice the shoppers into your store. You need to make a visual impact, tell a story and make sure everyone who sees it feels as festive as possible. After the horrorshow of 2020, we need that more than ever! Here are six ideas for merchandising for Christmas with child mannequin displays.
As much as adults can enjoy Yuletide, there is nothing like the countdown to the big day for a child. Featuring child mannequins in your display can transport your potential customers back to those carefree days.
1)    Carol Singers
If you really want to play on the traditional Christmas vibe, then arranging your display of child mannequins as carol singers is a great idea. Picture the scene – a lit Christmas tree in the middle of a street scene with snow settled all around and a group of child mannequins dressed in jumpers, overcoats and wooly scarves stand in a semicircle with songbooks in hand.
In a year where this will most likely not happen in real life due to social distancing restrictions, it will act as a comforting reminder of the joys of Christmas. This striking display will certainly attract attention from shoppers as they go about buying gifts for their family and friends.
2)    Christmas Morning
For a traditional Christmas scene that gives you more opportunity to play with different heights in your shop window display, how about a Christmas morning scene? You can have some children standing up, others sitting on the floor unwrapping presents and some climbing on the window sill to try and catch a glimpse of Santa! The differing levels keep things even more visually stimulating for passing shoppers.
This is much more of an action scene than the carol singing. It also encapsulates the most exciting part of the festive period for most kids – ripping the paper off their presents.
Another advantage of creating a Christmas morning scene in your retail display is that there is more opportunity to show off a diverse array of products. With the carol singers, this works well if you sell children's clothes. However, the Christmas morning display can lend itself to showing off a wider range of clothes, gifts, homewares and more.
3)    Christmas Party Scene
Doing away with the chocolate box view of Yuletide, you could liven up your display with a selection of child mannequins rocking out at a Christmas party. This gives you the chance to work with different poses and play around with lighting to produce something that really shows off the fun of the pre-Christmas party season.
You can pull out all the choices from the school discos of yore, with coordinated dance routines, boys running riot with ties tied around their heads, children downing fizzy pop by the bucketload and more. This is nostalgia in a completely different way from the carol singing scene and will certainly spark memories and conversations with your customers.
4)    A Christmas Carol
Another good idea for a shop window display theme is to look back at films, TV shows and books associated with Christmas. They don't get more iconic than Charles Dickens' A Christmas Carol.
We have seen the story told in traditional Victorian style, we've seen Bill Murray bringing it up to date (well, it was up to date when it came out in 1988, anyway), and we have seen the Muppets give their take on it. Everybody knows the premise and the moral about the power of goodwill at Christmas time, which makes it a fantastic reference point for a display.
You can place a child mannequin front and centre to act as Tiny Tim, who is a symbol of why Scrooge needs to mend his ways. You can have a lot of fun with the ghosts and also with the boy who Scrooge charges with fetching a turkey for the Cratchit family.
Peter Pan
Another seasonal favourite is Peter Pan, which has become a panto classic. The themes of childhood, innocence and magic are all very festive, and you can really create an impressive display filled with Peter, Tinkerbell, Wendy, John, Michael and the Lost Boys.
There is another chance to create something out-of-the-ordinary in terms of the visual spectacular by suspending some of the child mannequins from the ceiling to show them flying through your display. This will make it eye-catching and enticing for children who love the story. And if the children come to look, the parents come too and are one step closer to stepping inside and spending some money.
Elves and Santa
Finally, you can't consider a Christmas shop display without at least giving thought to the big man himself. You could dress up an adult mannequin as Santa and have the child mannequins adorned in elf costumes, helping their master put the final touches to his sleigh before Christmas Eve.
You can have a lot of fun, putting them into different positions and situations in order to create a display to remember for people walking past your shop.
Want Child Mannequins for Your Shop Display?
We have a range of mannequins available for you to buy from The Retail Factory, including child mannequins. If you want to find out more, call us today on 0333 344 2693 and chat about your requirements in the run up to Christmas.